Historical background 1793 - 1855
The 3rd Duke survived his father by only one year. He died in 1795 leaving his 10 year old son, Henry Pelham Fiennes Clinton, to become the 4th Duke. Because of his age, trustees were appointed to manage the family estate. In due course the Trustees, on the advice of various agents, decided that The Park should be developed for housing, as was happening to various noble estates in London. The Park, however, was almost inaccessible to horse drawn traffic from the town. There was only one access down the medieval track, now the Park Steps, from beside the new infirmary at the top of Park Row. So, in 1809 a new improved access road, Lenton Road, then called Park Passage was cut along the line of the old outer moat of the Castle, near the Gatehouse.

The Duke had grand aesthetic aspirations for a select "residential plan" in the Park. Frederick Robinson was appointed his architect and the first phase of development began. c1820-1840. It was limited to the escarpment on the north eastern edge of the estate, and just off the new road, on what is now Park Valley. The houses were very much in the Regency Style with stuccoed exteriors, except for a apir of stone built 'cottages' c1830 at the bottom of the Park Steps. Two years later a new North Entrance was established. By then nearly 50 houses had been built.


However disaster struck, when in October 1831 the Castle, was set ablaze by rioters, who had themselves been inflamed by the Duke's opposition to electoral reform. The gutted shell was to overshadow the town for the next forty years, a reminder of the lawlessness of the population. So, the animosity of the inhabitants of the Town who also resented the loss of what they had come to regard as "their" Park, the general civil unrest in the country and the Duke's financial difficulties, all combined to bring to an end this first phase of development.



In effect Robinson's plan was now abandoned. It survived only as to his scheme for a grand new entrance, via a rock cut tunnel from Derby Rd.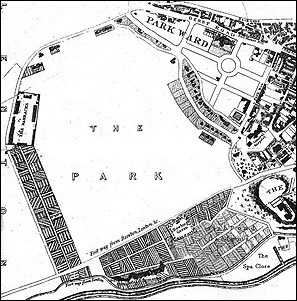 William Dearden 1844

An exploratory tunnel having been cut in 1843 work started on the main tunnel the following year, but it too was abandoned. It was not to be recommenced until 1855. By then two important events had occurred. The first was the death of the Duke in 1851 and the second was the appointment, by his son the 5th Duke, in 1854, of a prominent local architect Thomas Chambers Hine as Surveyor of the Newcastle Estate.
The Park Tunnel, completed 1855-1856